Teach Central
Teach Central, formerly 'The RSAA Teaching School Alliance', part of Central Region Schools Trust, is led by Good and Outstanding schools across the West Midlands and the wider central region. We work in partnership with all phases of education including – first, primary, middle, high and secondary schools. Our schools are located in different areas across the Midlands; we can offer training in Birmingham, Dudley, Redditch (South Birmingham), Kidderminster, Worcestershire and Warwickshire.

Through our family of secondary, high, middle, first and primary schools, we provide a range of professional development opportunities to teachers at all stages of their careers. One of our main aims is to take a leading role in recruiting and providing high quality training to new entrants to the profession, identifying leadership potential and supporting teachers on a successful career path.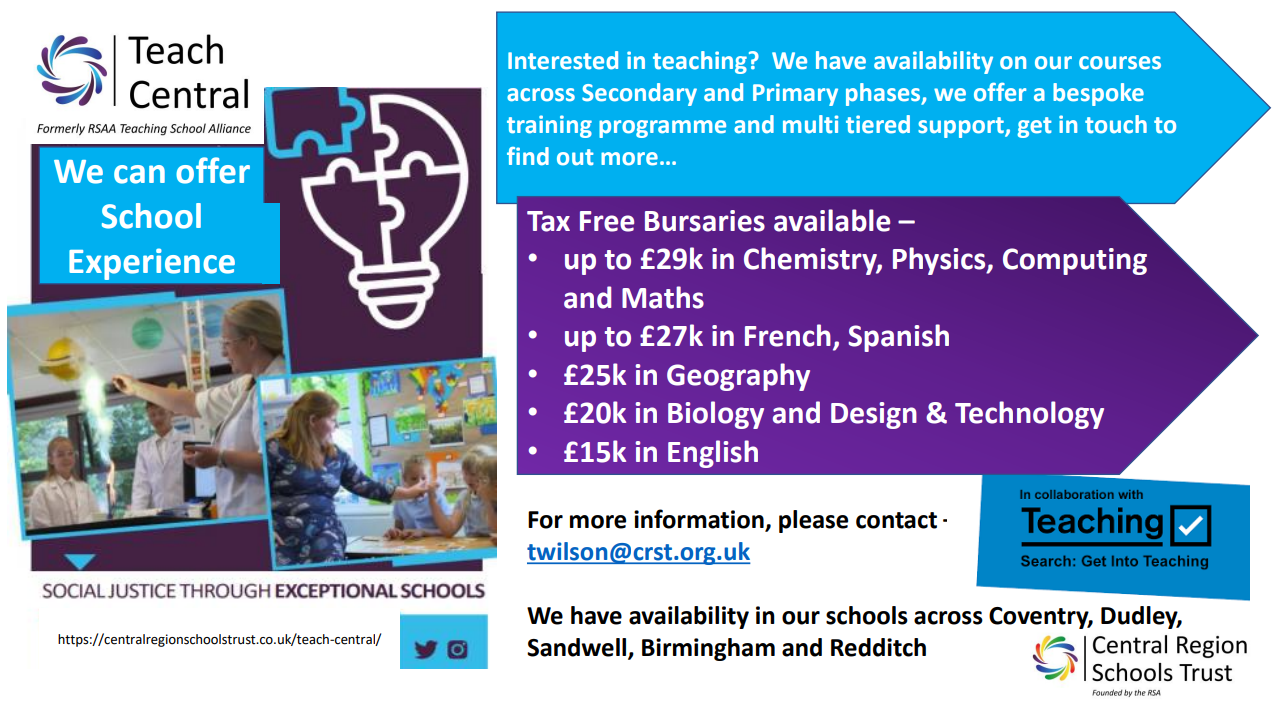 Headline Figures 2021-22
100% of secondary trainees passed at Grade 1 & 2

Teach Central Completion Rate (Secondary) 100%

Teach Central Completion Rate (Primary) 100%


Why train with us?
Headline figures – 2021-22
100% Secondary trainees passed at Grade 1 & 2
Teach Central completion rate (Secondary) 100%
Teach Central completion rate (Primary) 100%
Working with Teach Central brings endless opportunities and unique benefits to trainee teachers. There is a strong encouragement and support for teachers as researchers, who are encouraged to try out new things and share their findings.
There is also opportunity to have a wider influence on education. The Central Region Schools' trust continue to contribute to the education debate, and there are opportunities for trainees working within the trust to be part of this.
The School Direct programmes allow our schools the opportunity to further enhance our teacher training provision. We have developed new, exciting, innovative programmes with highly regarded local Higher Education Institutes. Teach Central, Birmingham City University (Secondary), and Haybridge SCITT (Primary) are proud to be working together to provide innovative and creative routes into teaching. These partnerships allow us to work closely together to provide trainee teachers with the opportunities they need to become creative and inspirational leaders of learning who will motivate and engage all learners. Our partnerships aim to produce highly skilled graduate teachers who have an in-depth knowledge and understanding of teaching and learning, which will enable them to demonstrate the highest levels of professional practice.
Our partnerships offer unrivalled facilities and excellent teaching informed by research and evidence. Teachers, as experts, support our trainees to develop into the next generation of great practitioners and leaders. Our programmes prepare trainee teachers to address the needs of all learners and their communities, to overcome disadvantage and barriers to learning and to continually reflect upon the impact of their professional practice.
We offer multi-tiered levels of support to guarantee that our trainees make exceptional progress throughout their training and beyond. Central Region Schools Trust ensure the best possible educational outcomes for the children in our care, to prepare them for a happy and fulfilling life.
Our programmes last for one academic year (September – July), during which time you will undertake two high quality school placements across our multi academy trust, and extensive network of partner schools.
You will also enjoy a bespoke programme of training developed, and delivered by our family of schools and partners. For training bursaries information, visit the "Get into Teaching website." The training programme will be for one academic year and is a full-time programme.
There are minimum entry requirements for all of our School Direct ITT programmes. Our courses have been designed to build your confidence and subject knowledge and give you the necessary skills to become an effective classroom practitioner.
We strongly believe in school-led training, because we recruit high calibre trainees, and support them to become the very best practitioners and in turn transform students' outcomes through challenging and stimulating teaching. We provide one-to-one support and access to a comprehensive and tailored CPD package, which will ensure you are fully supported throughout your training year and your professional development.
Teach Central and our partners, including BCU and Haybridge SCITT, work closely together to deliver a programme to meet the needs of local schools, local learners and local teachers. Trainees spend the majority of their time in school-based practice and centre-led training sessions at specific times.
Central to the curriculum is the study of education, pedagogy and professional practice from both generic and subject-specific perspectives, which is delivered using a combination of practical workshops, taught sessions, seminar groups and individual study. Integral to our ITT programme is our 'bespoke' design thinking model which is offered throughout the training year to empower trainees to engage with research to raise standards of progress for all learners; this model focuses on creativity, initiative and 'out of the box' thinking.
To complement this, we offer a programme of subject knowledge and enhancement that supports the development of subject pedagogy. Specialist subject knowledge is up-dated throughout the course to ensure trainee teachers are fully conversant with curriculum requirements.
Trainee teachers are expected as early career professionals to take on significant responsibility for their own progress and development. A system of professional development profiling is welcomed, particularly amongst those who have completed the course because it sets them apart from their peers in their first year of teaching.
On completion of your training you will be awarded a PGCE with QTS; the programmes are assessed at masters (M) level. Graduates of the Schools Direct programmes will be confident, passionate, knowledgeable and reflective teachers, ready to embark on a rewarding and fulfilling career, hopefully taking up positions that arise within our partnership of schools.
---
Contact
For enquires about Initial Teacher Training at Teach Central, please contact:
Teresa Wilson,
Trust Lead for ITT & Early Careers,
Teach Central c/o Assay Studios,
Newhall Street,
Birmingham,
B1 5SF
TEL: 0121 270 3117
TWITTER: @TeachCentral
INSTAGRAM: @TeachCentral1